Burlington, Vermont, USA

Musical Director: Steffen Parker
President: Joel Atherton
Thanks for a Great Season!

The Burlington Concert Band in 2016


---
The Burlington Concert Band is a non-profit organization associated with the Burlington City Arts and the Burlington Parks and Recreation Department. We give free concerts every Sunday night at 7:00 p.m. during the summer season which begins in May and continues until the end of August. During that time the band rehearses on Thursday nights at 7:00pm. BCB is currently coming into its 163th season.

The Burlington Concert Band is constantly looking for new members. If rehearsing and performing with the BCB is something that you might be interested in, you can find more information on our participation page. For a listing of the officers of our organization please click here.

Our current Musical Director is Steffen Parker. Steffen has been a fill-in conductor for a number of years for the band during Steve Sawyer tenure. Mr. Parker received a BA in Trombone Performance from Plattsburgh State University and a Masters in Music Education: Conducting from Colorado State University. He is also the Flynn Jazz Festival Director, Johnson Jazz Festival Director, Vermont All State Music Festival Director and is a member of the Burlington Discover Jazz Advisory Board.




Dan Bolles mentioned us in Seven Days. We're about 3/4 down:



On July 24,2005, our band was surprised when Gary Moreau awarded us the this Certificate of Appreciation: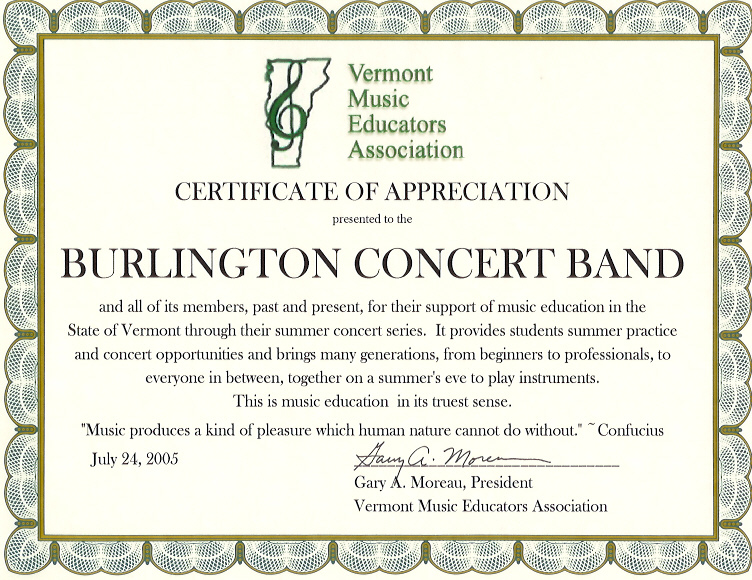 ..................................................