The Burlington Concert Band in 2016


---
The Burlington Concert Band is a non-profit organization associated with the Burlington City Arts and the Burlington Parks and Recreation Department. We give free concerts every Sunday night at 7:00 p.m. during the summer season which begins in May and continues until the end of August. During that time the band rehearses on Thursday nights at 7:00pm. BCB is currently coming into its 163th season.

The Burlington Concert Band is constantly looking for new members. If rehearsing and performing with the BCB is something that you might be interested in, you can find more information on our participation page. For a listing of the officers of our organization please click here.

Our current Musical Director is Lary Solt. Larry graduated from the College-Conservatory of Music at the University of Cincinnati and added degrees at Johnson State College and the University of Vermont. Since 1970 he has taught instrumental music in Ohio and Vermont. He is past president of the Vermont Music Educators Association, All State auditions chair and orchestra manager. Also he was a founding member of the Vermont MIDI program, now Music Comp. He was awarded certification by the National Board for Professional Teaching Standards and Special Recognition in the Vermont Music Educators Hall of Fame in 2010. Larry has conducted regional and district bands in Vermont, New Hampshire, Massachusetts, New York, Ohio, Indiana, and Honduras. Between 1988 and 2005 he worked with the Vermont Youth Orchestra program as trumpet master teacher and brass and percussion sectional instructor. He also served as an elementary principal in Lincoln, Vermont. Larry has performed with many groups throughout the state, including the Vermont Symphony Orchestra, Vermont Mozart Festival Orchestra and the Vermont Jazz Ensemble. He also was conductor and soloist with the Catamount Brass Band, now the Green Mountain Brass Band. Currently, he conducts the Vermont Brass Ensemble and the UVM Concert Band for the spring semester 2018.




Dan Bolles mentioned us in Seven Days. We're about 3/4 down:



On July 24,2005, our band was surprised when Gary Moreau awarded us the this Certificate of Appreciation: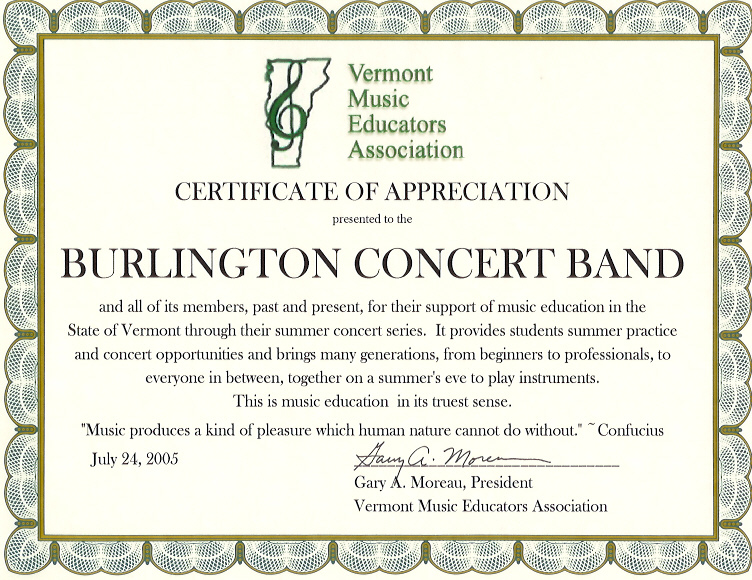 ..................................................